Bath was… surprising. I really wasn't expecting much to do there, other than the Roman Baths, but there is enough in this town to easily fill up a day… or two!
1. The Roman Baths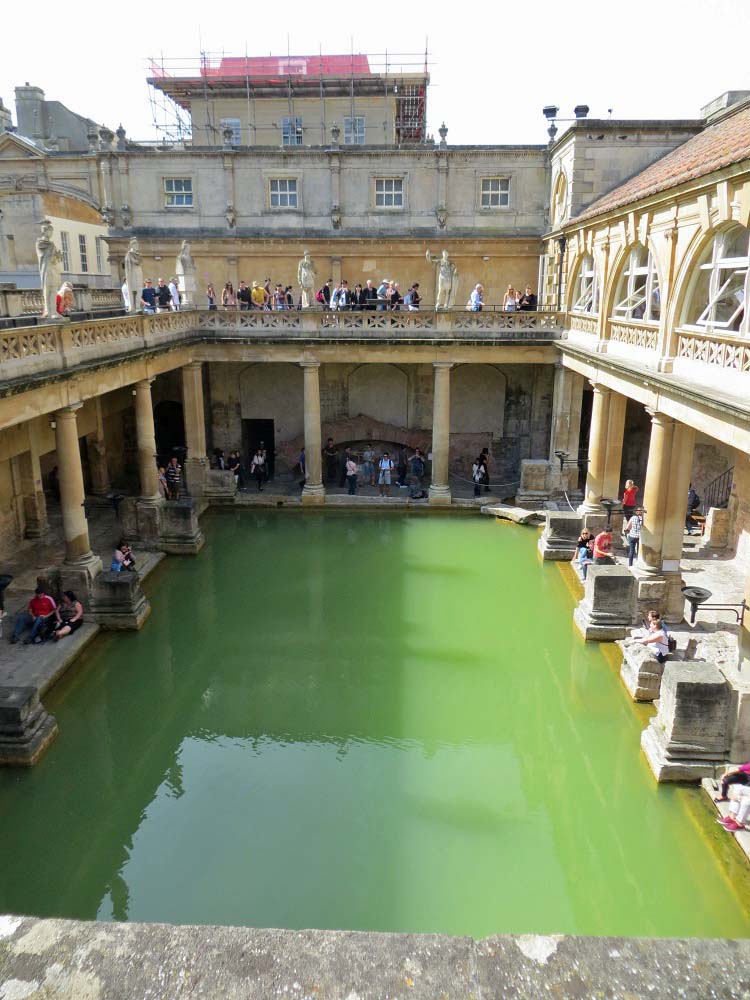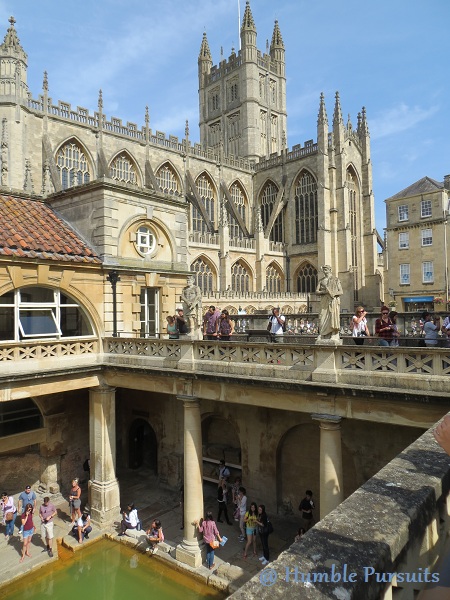 Yess, I know I just said there is more in Bath than the Roman Baths, but when in Bath, you must go see the Roman Baths!  The entire experience was better than I thought it would be.  The museum was very well done, and they have many different tours, and activities. Definitely check out their website before you go, and GO EARLY!  Also, go late. The torchlit evening experience looks so cool!  Oh, and if want to actually have a thermal bath experience in Bath, check out The Cross Bath.
2. Bath Abbey
After finishing up at the Roman Baths, walk over to Bath Abbey right next door.  Technically entrance is free, but they ask for a suggested donation of 4 pounds. I always feel weird not paying the donation. If you'd like to know what the donations support, they have a short video on their site.
3. Free Walking Tour
What is free, I mean completely free no tips accepted kinda free, is the FREE walking tour by The Mayor of Bath's Corps of Honorary Guides.  The starting point of the tour is outside of the pump room in between the Roman Baths and Bath Abbey. It last about two hours.  Make sure the guide is wearing the Mayor's Guides badge.  To see what the badge looks like, times, and general information, click here.
4. Jane Austen Centre
A resident of Bath, signs of Jane Austen can be spotted all around town.  From plaques on some of the buildings where she resided, to Jane Austen festivals, if you're a fan of Jane Austen then this is the city and place for you.  If this sounds like you're kinda fun, then the Jane Austen Centre is for you.
5. Pulteney Bridge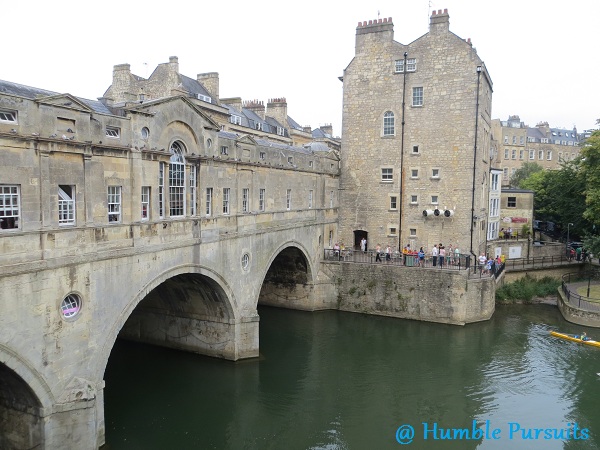 Pulteney Bridge is an 18th century stone bridge lined with shops to along both sides across the bridge.  If walking from the Roman Baths area, you cross the the bridge, on the on the other end you will find stairs that lead down to the Riverside Walk on the Avon River.
6. Riverside Walk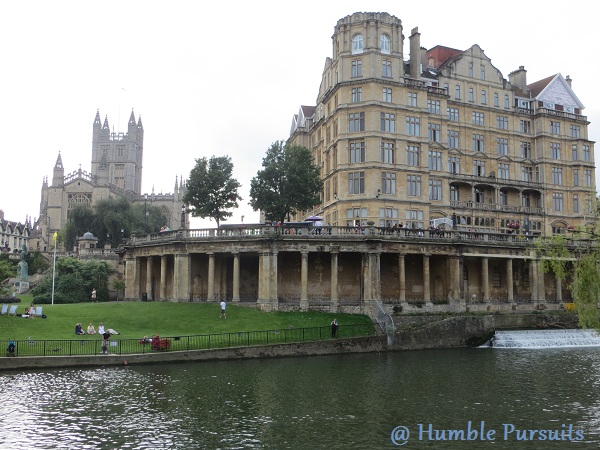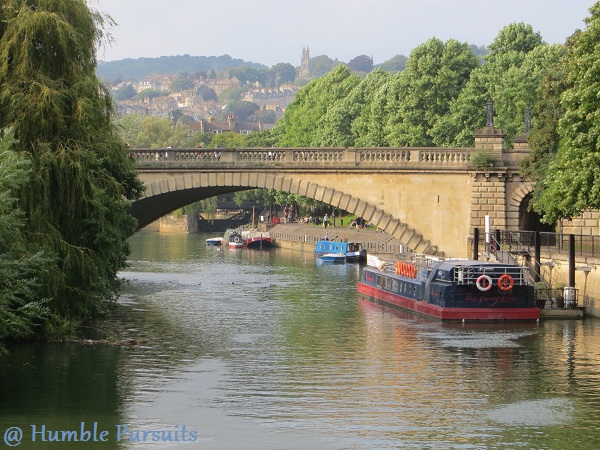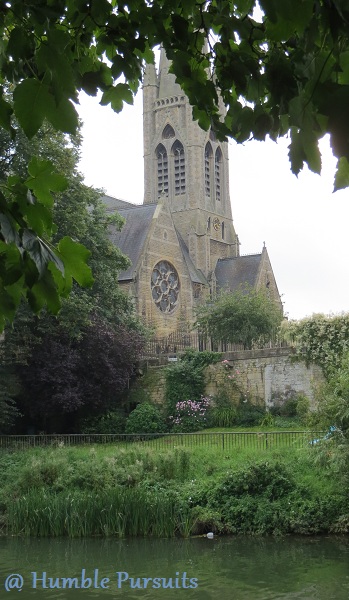 Other than the Roman Baths, this was a highlight for me. We didn't walk all the way to the end, but there were some great views.  While we were walking there was music coming from Parade Gardens which made the walk even better.   Even if you don't plane on walking far, I would still recommend walking down to the beginning of the river walk for a great view of Bath Abbey.
7. Parade Gardens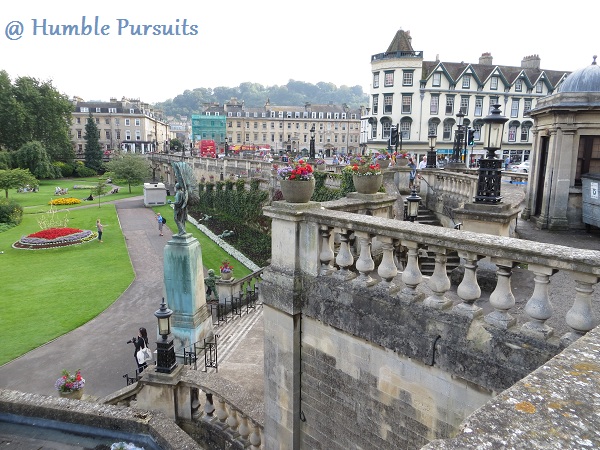 So, let me start this off by saying that you do have to pay to get into Parade Gardens, but was a nice park.  If there was a band playing, and you didn't feel like taking a stroll along the Avon River (where you can hear the music playing from the park) this would be a great place for a picnic and pause from all the sightseeing and activities.
8. Royal Victoria Park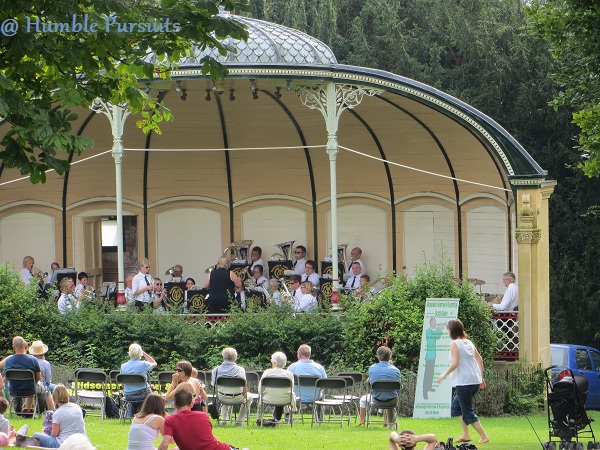 Speaking of parks, The Royal Victoria Park is massive!  It's 57 acres!  It's has a large playground for kids, a botanical garden, a skateboard park, tennis courts, and more!  Well, we never quite made it to the rest of the park because of an open air concert going on, so we stopped, sat, and listened. To find out more about all this park has to offer, click here.
9. The Royal Crescent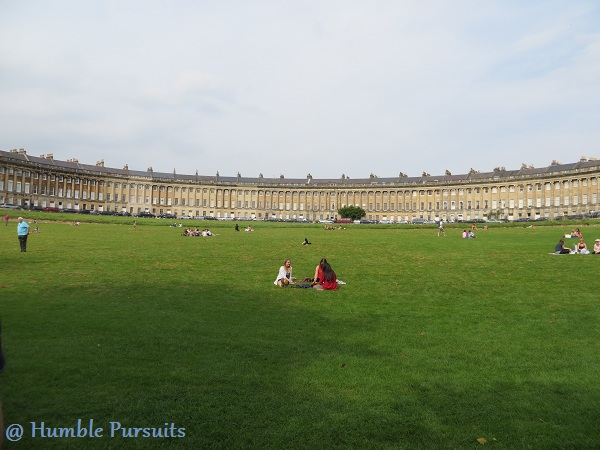 The Royal Crescent is directly across from The Royal Victoria Park where the concert was being held.  The Royal Crescent is a beautiful example of Georgian architecture and is a must to walk or drive past. There is a museum at No. 1 Royal Crescent with furnishings from 1776-1796. For more information on times, and cost of admission, click here.